Future Champs
This class is for a beginner wrestler with 2 years or less wrestling and also for the wrestler who needs work on the basics of wrestling. Penetration steps, stance and positioning will be drilled over and over till mastered in this class. All of these basics need to be taught before they can be moved to our rec elite class.
Rec Elite Classes
This class is meant for the wrestlers who understand all the basics of wrestling and can handle a faster pace teaching and drilling. Most kids in this class have went through our Future Champs Class. Students in this class are on our National Duals Team and competing at tournaments on the weekends. We also have many girls in all of our classes with the growing interest we have now with girls wrestling. We also train freestyle wrestling as soon as the folkstyle season is over.
High School Program
Cordoba Trained Wrestling also has a High School program in which 9-12 graders train. Middle school athletes who are chosen to be ready for this level are also eligible to participate in our HS class. Our school is open all year long so after their HS season is over they can continue to train and compete on the weekends and have goals for the off season.
All Girls Class
Cordoba Trained Wrestling girls are becoming a huge part of our program. Most of our girls ages 5-18 wrestle in our classes with all the boys. We accept girls of all ages and experience. NJ girls wrestling has grown tremendously in the last couple of years and we want to provide the best and safest atmosphere for our girls. We have two women wrestling coaches on staff who help with most of our girl wrestlers to help them get acclimated to our program.
PRIVATE LESSONS
Cordoba Trained offers personal instruction classes 7 days a week in addition to the standard group classes students participate in. Any athlete looking for more personalized service and attention have several options to choose from. 1on 1 with their desired coach, as well as with a partner or small group training. Private lessons are to be scheduled at the front desk or with coach cordoba. We also offer strength and conditioning privates for students and parents with coach Frank Marrero. 
Cordoba Trained
Our Trainer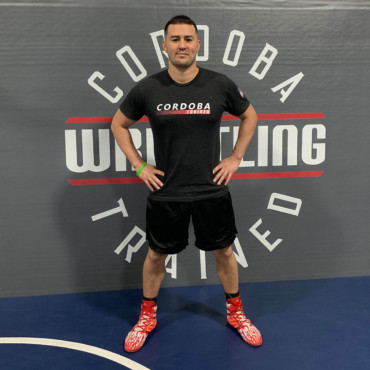 One of the most accomplished scholastic wrestlers to come out of New Jersey Coach Cordoba has built a culture in a room that is based on hard work and attention to detail. He has used his experience on the collegiate level to build a network of athletes and coaches that have helped build one of the finest wrestling clubs in the state of NJ. As a former NJ State Champion and All American Coach Cordoba has over 20 years of coaching experience and has produced State and National champions from the elementary level all the way to High School. His love and dedication for the sport is unparalleled and infectious among his athletes.